Canon EOS 1300D 18MP Digital SLR Camera (Black) with 18-55mm ISII Lens, 16GB Card and Carry Case
Brand: Canon
Product Code: canon1300d
Availability: 1
Canon EOS 1300D 18MP Digital SLR Camera (Black)
with 18-55mm ISII Lens, 16GB Card and Carry Case


MRP : Rs 29,995.00


Product Description :
A great pick for photography aficionados, the Canon EOS 1300D kit is a great pick for anyone who loves experimenting with their camera. The Canon EOS 1300D 18 - 55 mm lens offered to you along with the main body at an affordable rate makes it a must-have for you. Moreover, you also get a SD memory card with the capacity of 16 GB that you can utilise for extra storage space. It has been engineered using advanced technologies and has a variety of improved features. The camera also comes with a 2-year warranty from the manufacturer.

Megapixel
The

Canon

1300D uses the 18 MP APS-C size CMOS sensor along with an advanced DIGIC 4 Plus processor to be seamless in terms of reproducing quality pictures with higher resolutions. The compatible Canon 18-55mm lens makes it a delight to use the camera and have different settings to be of optimum use to you.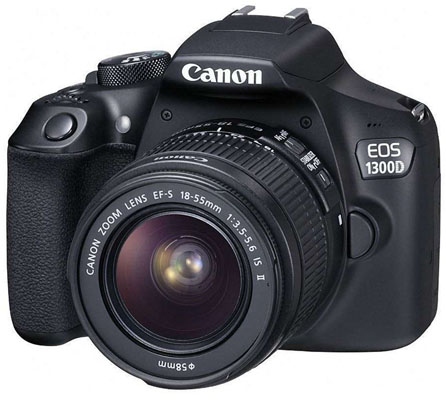 Screen Size
Equipped with a 7.6 cm TFT LCD monitor, the Canon
DSLR camera

makes previewing the shots and handling the camera easier and impressive at the same time. You can also adjust the brightness settings of the monitor.
Image Stabilization and Auto Focus
The intelligent IS of Canon EOS 1300D with 18 - 55 mm Lens is a great feature that considerably contributes in improving the picture quality. This feature prevents the formation of blurs or distortions that can be accidentally caused as an effect of camera shake. Moreover, the 9-point all cross-type AF with one centre considerably improves its overall performance. The Canon

camera

also supports face detection and delivers pictures that are life-like as well.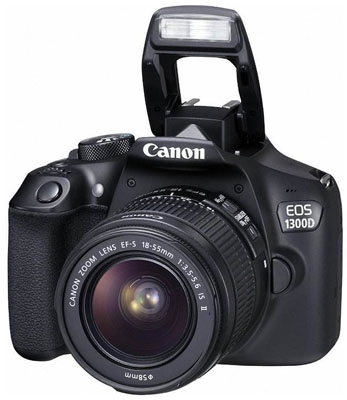 Connectivity Options
In addition to Hi-Speed USB connectivity, the Canon EOS 1300D DSLR camera also supports HDMI connectivity and remote controlled operations. Moreover, it comes with an inbuilt microphone that records the sound in a quality manner. There is also a built-in flash that aids you in times of low-light situations. What is great about this camera is also that it has an advanced interface and supports Wi-Fi connectivity and NFC. You can thus share your best shots with your friends and family directly from the camera in a wireless manner.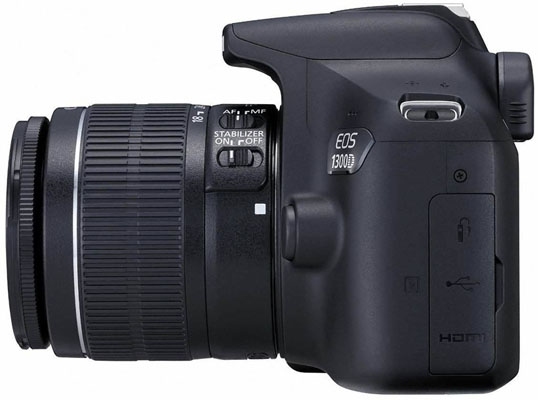 Video Recording and Creative Filters
You can now enjoy shooting full HD videos with a resolution of 1920 x 1080 p when you make use of the Canon EOS 1300D kit. Additionally, there are various special creative filters that allow you to apply versatile effects to your still shots and videos with ease. You also have a number of special modes to aid you with different photographic situations.
Additional Features
What makes the performance of the DSLR even smoother is its powerful battery life. It is powered by an LP-E10 battery pack and comes with an adapter. You also have enough storage space as the Canon DSLR supports SD, SDHC, and SDXC type of memory cards. You also get a 16 GB SD card along with this combo to aid you. Other interesting features of the camera include live view shooting, scene intelligent auto, wide ISO range, continuous shooting, self-timer, GPS tagging, and much more. Buy Canon EOS 1300D 18MP Digital SLR camera with 18-55 mm lens to get a better photography experience.


Tech Specifications:
Shutter Speed
Maximum Shutter Speed
1/4000 sec
Minimum Shutter Speed
30 sec
Shutter Type
Electronically-controlled, Focal-plane Shutter
Shutter Flash Sync Speed
X-sync at 1/200 sec
Shutter Speed in other Modes
Bulb
Pixels
Optical Sensor Resolution (in MegaPixel)
18 MP
Lens
Lens Type
Canon EF Mount
Auto Focus
Yes
Focus Mode
Contrast Detection (FlexiZone Single, Face Detection Live Mode), Phase Difference Detection (Quick Mode) Manual Focus (5x / 10x Magnification Possible), AF Operation: One Shot AF, AI Servo AF, AI Focus AF
Compatible Lenses
Canon EF Lenses (Including EF-S Lenses)
Manual Focus
Yes
Focal Length
18 - 55 mm
Focus Points
9 Point (Cross-type AF Sensitive to f/5.6 with Center AF Point)
Focusing Screen
Fixed, Precision Matte
Other Focus Features
Type: TTL Secondary Image Registration, Phase Difference Detection, Focusing Brightness Range (For Viewfinder Shooting): EV 0 - 18 (Center AF Point), EV 1 - 18 (Other AF Points), (With One-Shot AF at Room Temperature, ISO 100), AF Assist Beam: Small Series of Flashes Fired by Built-in Flash
Dimension
Weight without Battery
440 g
Weight